Important!: On April 02, 2012 Mozilla Firefox implemented an active block on versions of the Java Runtime Environment (JRE) older than 1.6.0_31 or between 1.7.0 and 1.7.0_2 in the Firefox web browser. As a result, this block disables the Java plugin from being used in the Firefox browser. A statement provided by Mozilla Firefox can be reviewed here.

To continue to utilize Java which is a necessary component of the courseware, please upgrade your Java environment to at least 1.6.0_31 by visiting the Java website here. Alternatively, you may choose to continue utilizing your existing version of Java by following the steps outlined in the guide below.
This walk-through was created using Firefox 10.0.2 as a guide, however alternate versions of the Firefox will be very similar in procedure as well.
Enabling the Java plugin for Firefox
1. Open the Firefox menu and select Add-ons, or press Ctrl+Shift+A on your keyboard to open the Add-ons Manager.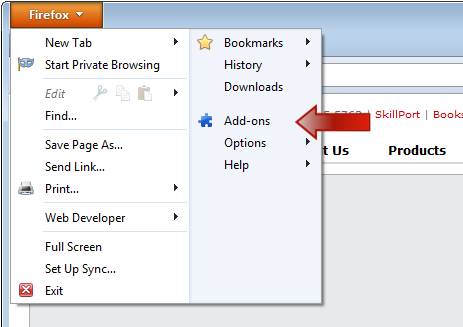 2. In the new tab, locate the entry for the Java(TM) Platform SE plugin entry, and ensure that it is Enabled.

3. After the Java plugin has been enabled, you should now be able to login to your Skillport account, and launch your courseware once again.
Should you require any assistance with the above steps, please feel free to contact Skillsoft Support through one of the options listed below.
| | |
| --- | --- |
| | Access a Skillsoft Support Representative in a one-to-one chat environment using our Live Help. |
| | The Skillsoft Online Customer Support Portal is a gateway to the latest technical support and how-to information. Users can search technical support articles, view a list of FAQ's or submit requests to Skillsoft Customer Service Representatives through an intuitive, easy to use Web form. |
Back to the top of this page.