Please be advised that users who have not yet upgraded to Oracle JRE version 1.7.0_51, and are currently running an older version of JRE 1.7, will encounter issues when attempting to use Skillsoft courseware and applications due to changes in the handling of the Java 'LiveConnect' feature.
The issues users may encounter include:
Skillsoft Course Player latency and freezing
Missing features and controls when using the Skillsoft Course Player
Error dialogues related to 'LMS communication' (examples below)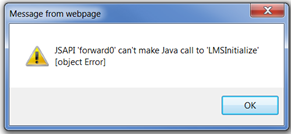 Additional information on regarding these issues can be reviewed by clicking here.
Skillsoft strongly recommends that users with older versions of Oracle JRE 1.7 upgrade to the latest JRE release. For information and instructions on installing the latest version, please click here.